EL MASYAF NORTH COAST
EL MASYAF
THE NEWS PAPER EDITION
STAGGERED CHALETS
Ensuring natural light & views reach the various levels
FAMILY HOUSES
A 3 key home to share
TWIN HOUSES
Two independent houses, sharing a wall
STAND-ALONE VILLAS
One unique villa for the fully independent
CRYSTAL LAGOONS
18.2 feddans of crystal clear lagoons
NATURAL LEVELING
Every unit has a view
Chapter 1
The story behind El masyaf / حدوتة المصيف
أهلا بيكم في المصيف
Welcome to El Masyaf, where everything is familiar. Your neighbors are your family, the beach is your refuge & the
surroundings are natural.
الكيلو 75
Nestled along Al Sahel el Shemaly's coast, El Masyaf covers 171 acres of naturally leveled land with a beach front
stretched over 1 km.
Located just 75 km from Marsa Matrouh and 10 km away from Fouka Road, El Masyaf is a prime destination and
location for summer homes, where the pure essence of summer is revived.
We have handpicked our partners and consultants, making El Masyaf an even more personal and special experience
for everyone to rejoice in. Reshuffling the Sahel game, by having sea view staggered chalets next to stand alones
right on the beach, El Masyaf gives you the flexibility to own summer the way you want it to be.
Staying true to the name and its meaning, El Masyaf contributes to giving you a summer destination where it
features a variety of homes and views, from family homes to standalone villas, staggered chalets and twin houses.
Defined by familiarity, it is set to be home to El Lokanda, El Marssa and El Pansyon, where family and friends can all
come together and rejoice summer.
Chapter 2
This is El Masyaf / شرفونا في المصيف
A sensuous experience capturing the forgotten senses of wellbeing and enjoying the timeless simple pleasures of
life. It is the feel of nostalgic summer days with the function of today, creating an oasis of joy. The wind in your
hair, the sand on your toes, and the sound of waves becomes the soundtrack of your life. Setting the stage for
a spiritual and adventurous experience for all. Suited young to old, active to passive, morning till night, summer to
winter, land to sea.
Master plan
Master plan | Zones
Master plan Analysis
Natural Leveling
Facilities & Amenities
Boutique Hotel El Lokanda
The Island Crystal Lagoons | 18.2 feddans | 7-15 m wide
Chapter 3
What does our environment mean to us ?
بيئتنا بالنسبالنا اية ؟
• Hydroponics rooftop garden on Boutique Hotel
• Rainwater harvesting system for the hotel and rain barrels for the Villas
• Bicycle lanes, bicycle storage areas or racks
• Native, drought-tolerant landscape
• Natural lagoons
• Rooftop solar panels
• Solar hot water heating
• Solid waste management program
• Urban community garden for growing fruits and vegetables
Chapter 4
What to do in El Masyaf ? / هنعمل ايه في المصيف
The barefoot experience.
Cairo can be often stressful and hectic, all we can think about during the week is our weekend by the beach in Sahel
El Shamaly. We hit the road and we can't wait to feel the water on our skin and reconnect with family again.
Imagine arriving at "bawabat" El Masyaf and opening the car window to smell the salty breeze, driving on the main
spine road, spotting the sea with its bright blue and the surrounding palm trees. Bike lanes with their racks, open
parks, farmers market, El Marsa with beach restaurant, sport courts, observatory tower, shops and commercial
areas … going back to basics with the rudimental elements of life and nature.
"Run towards the crashing waves, feel the warm water and the sun on your bare skin. Go relax on the hammock
above the water with one foot dipped in"
El Masyaf
MASTER PLAN
Chapter 5
Let's get technical / بيوت المصيف
STAGGERED CHALETS
Ensuring natural light & views reach the various levels
FAMILY HOUSES
A 3 key home to share
TWIN HOUSES
Two independent houses, sharing a wall
STAND-ALONE VILLAS
One unique villa for the fully independent
BOUTIQUE HOTEL | EL LOKANDA
Water front all year round boutique hotel
Beach front Villa
Stand-alone Villa
Twin House
3 key family house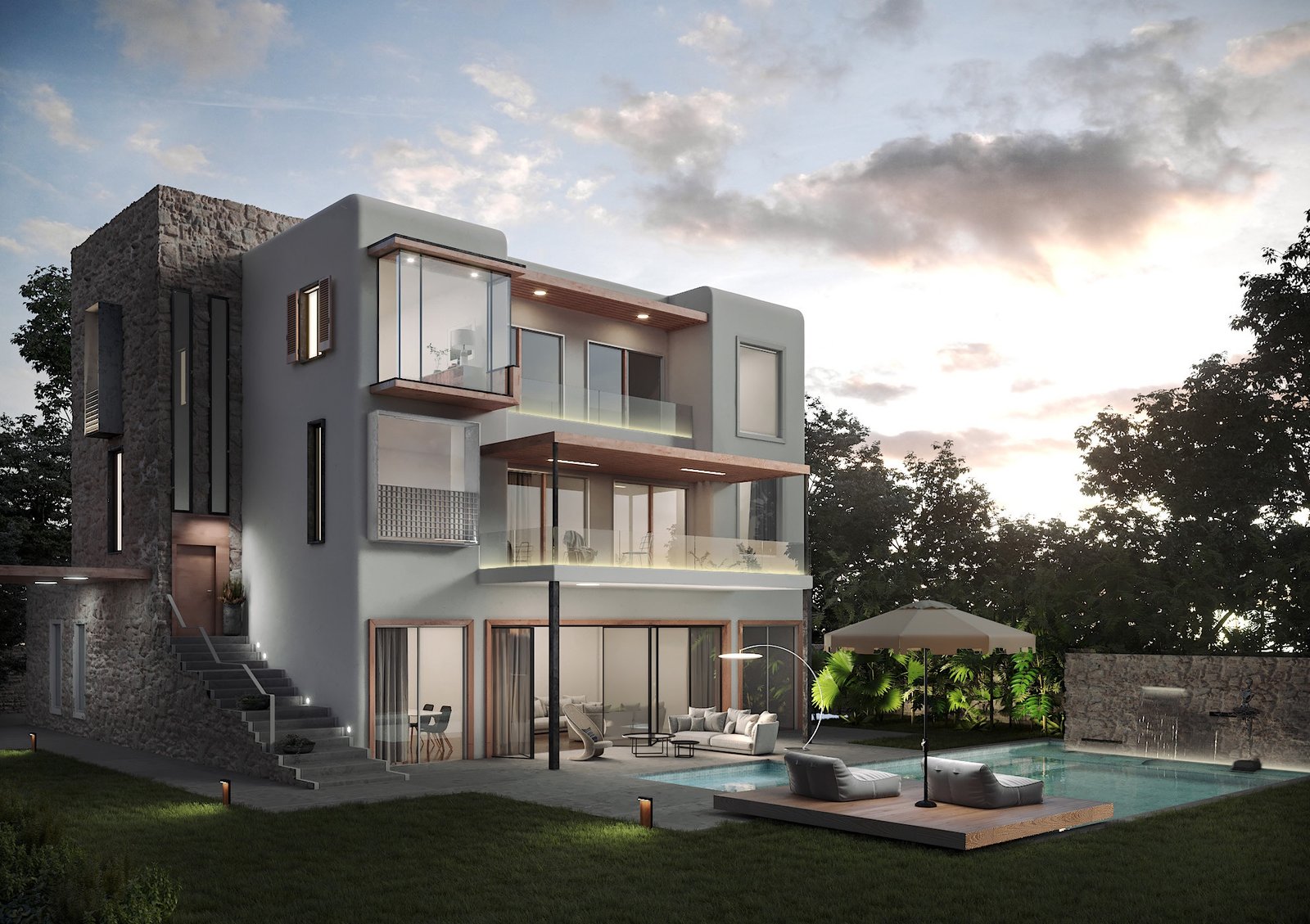 Sea view Town Chalets
Sea view Staggered Chalets
View from Staggered Chalets
Staggered Chalets
Ground floor 2 m above sea level
1st floor 31m above sea level
2nd floor 34m above sea level
Duplex 38m above sea level
Fully Finished Interior
The boutique hotel El Lokanda.
Designed by TDF Architects, an award-winning firm, El Lokanda is a water front, all year round boutique hotel built
on 6,300 m 2 . Taking you through a journey back to the essence of what summer memories are all about.
Embracing nature as the key inspirational element, the interplay between the architecture and interior design will
create a design where guests, their recreation and wellbeing are celebrated. The architectural language used
reflects both the luxurious yet primitive experience. It will include 50 rooms and a wellness center, along with
a camping area for kids and an organic garden.
El Lokanda
Technical Application | Ground Level