التفاصيل
Damac Hills Apartments
Damac Hills Apartments "HOME OF THE TRUMP INTERNATIONAL GOLF CLUB DUBAI 
 Damac Hills Apartments, where life finds you
 Damac Hills Apartments Fendi Casa, Trump and Paramount Hotels & Resorts, world-renowned brands, bring their coveted  
 vision of the gold standard in luxury living to DAMAC Hills
DAMAC Hills is where opulent lifestyles,  world-class retail and leisure spaces, 
along with spectacular outdoor living, spring to life across 42 million square feet of lush greenery 
Mansions, villas and apartments all have access to world-class retail and leisure spaces, along with spectacular outdoor areas and rich greenery in the form of the Trump International Golf Club Dubai and The Park 


Where luxury meets nature and gorgeous green views greet you from every 
corner. This is the Trump International Golf Club Dubai. This is DAMAC Hills
DAMAC Hills is home to the most  luxurious golfing community 
For the champions
The Trump International Golf Club Dubai is the first of its kind in the Middle East. Masterfully designed by Gil Hanse, the spectacular course offers a new level of challenge, along with state-of-the-art coaching and practice facilities 
To complete the experience, an exclusive clubhouse features a capacious pro shop and high-end restaurants, spectacular amenities and signature world-class service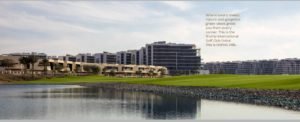 Trump International Golf Club Dubai is not owned or developed by Donald J. Trump, The Trump Organization or DAMAC Crescent Properties LLC, the owner and developer of the property, uses the
Trump name and mark under licence from DT Dubai Golf any  of their affiliates 
Manager LLC, which was retained to manage the operations of the golf club and course pursuant of
the terms of a  which management agreement may be terminated or revoked according to its terms.management agreement,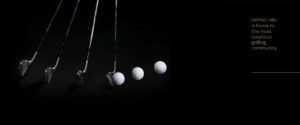 "At Trump International  Golf Club Dubai  we allowed the wind to shape some very interesting features."
Gil Hanse
 Damac Hills Apartments World-class course architecture 
DAMAC Hills is the most luxurious golfing community, with the Trump International Golf Club Dubai 
at its heart. The course is designed by Gil Hanse, one of the most sought after course architects in the game 
A great subscriber to minimalism, he has designed many other high-profile courses, including the 'Blue Monster', 
namely Trump National Doral's Blue Course, dubbed the greatest challenge for PGA Tour   Professionals. Now he brings his unique skills to shape the championship course at DAMAC Hills

Villas at The Park boast nearly four million square feet of parkland as their back yard
Where trees provide an awe-inspiring backdrop for memorable times, day after day
Home is where the park is Damac Hills Apartments
Nestled within the breathtaking acres of the master development is The Park at DAMAC Hills, a sanctuary of tranquillity and luxury, spread across nearly four million square feet of lush parkland
Here trees, pathways, streams and water features allow plenty of space to enjoy the great outdoors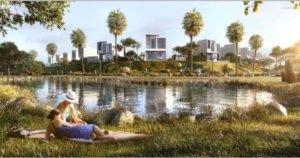 Damac Hills Apartments A dream location
Just a short journey from the centre of the city, and yet feels like a world away. DAMAC Hills is nestled city's flourishing and most sought-after within the expanses of Dubailand 
Enter an exclusive world open to a select few 
Damac Hills Apartments The Trump Estates
With a passion for meticulous craftsmanship, thoughtful design and glorious finishing, The Trump Estates community raises the bar when it comes to elite living 
A collection of luxury homes situated among the fairways of the 
Trump International Golf Club Dubai and The Park. They offer the highest levels 
of privacy and exclusivity in signature Trump style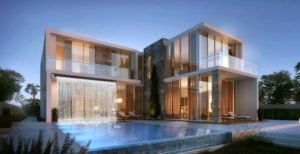 The Trump Estates is not owned, developed or sold by Donald J. Trump, The Trump Organization or any of their principals or affiliates. DAMAC Crescent Properties LLC, the owner and developer of the property, uses the 'Trump' name and mark under licence from DT Marks Dubai LLC, which licence may be terminated or revoked according to its terms
Live the Hollywood lifestyle in glamour and luxury
DAMAC Villas
by Paramount Hotels & Resorts
The life of Hollywood's elite has a new home at DAMAC Villas by Paramount Hotels & Resorts – a gated community serviced luxury villas taking inspiration of from the silver screen 
From Hollywood-themed homes to white glove service, life at DAMAC Villas is worthy of the stars

Disclaimer: All pictures, plans, layouts, information, data and details included in this brochure are indicative only and may change at any time up to the final 'as built' status in accordance with final designs of the project, regulatory approvals and planning permissions.
Damac Hills Apartments Fendi Styled Villas
Experience the distinctive style of Fendi Casa – a groundbreaking approach to design 
Italian savoir faire comes to life at DAMAC Hills in the Fendi Styled Villas, the first collection of its kind in the world
The house of Fendi lends its unique style to create spectacular living spaces across these limited-edition villas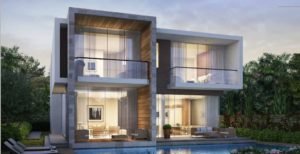 Your luxury home awaits
Villas by DAMAC
Choose from an exclusive collection of villas with beautiful views of The Park at DAMAC Hills or the Trump International Golf Club Dubai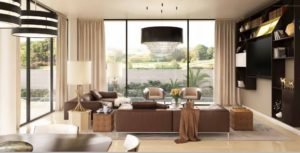 Types and shapes of villas In Damac Hills Apartments
 Damac Hills Apartments Residential apartments
High-rise residences with golf views
See Azizi project in Al Furjan area near Expo City
Live lavishly at Golf Vita residential towers with high-rise apartments 
that boast uninterrupted golf course views. With uniquely designed spaces, 
each home has enthralling views of lush parklands and spectacular green 
fairways of the Trump International Golf Club Dubai
With access to world-class leisure spaces, select from luxuriously appointed one and two-bedroom apartments where you can enjoy a world-class lifestyle with the warmth 
of home. Here, spend afternoons bonding with friends over coffee, shopping or enjoying the great outdoors.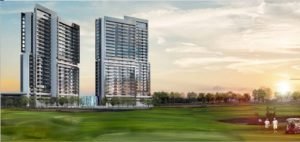 Damac Hills Apartments Golf-view residences
GOLF PROMENADE 
GOLF PANORAMA 2  
GOLF HORIZON 3
GOLF VISTA 4   
GOLF VEDUTA 5 
GOLF TERRACE 6
Apartments are set in beautiful  low-rise, glass-fronted buildings 
linked by a central plaza, which boasts an expansive swimming pool and incredible
 views. Many homes open their doors onto large terraces and uninterrupted golf course views
Choose from luxuriously appointed studios; one, two, three and four 
bedroom apartments; as well as exclusive townhouses.
Homes at Golf Terrace and Golf Veduta are fully furnished too, so all you have to do it turn up!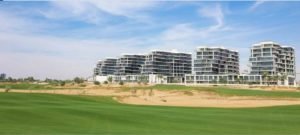 Damac Hills Apartments Park-view residences
JASMINE 1
ORCHID 2
LORETO 3
At the parkside residences, pathways and trails wind through lush landscaping, allowing you to come closer to nature 
Apartments offer stunning vistas as far as the eye can see, with acres of nothing but rich greenery. Choose from a variety of arrangements to suit your needs and begin your 'park life'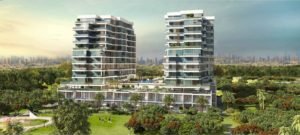 DAMAC
 Live the luxury in Damac Hills Apartments
DAMAC Properties has been at the forefront of the Middle East's luxury real estate market since 2002, delivering award-winning residential, commercial and leisure properties across the region, including the UAE, Saudi Arabia, 
Qatar, Jordan, Lebanon, Oman and the United Kingdom. Since then, the Company has delivered over 20,230 homes, stages of planning and progress. This includes 13,000 hotel 
with a development portfolio of more than 44,000 at various rooms, serviced hotel apartments and hotel villas, managed by its wholly-owned DAMAC Hotels & Resorts.*
Joining forces with some of the world's most eminent fashion and lifestyle brands, DAMAC has brought new and exciting living concepts to the market in collaborations  
that include a TGR Design by Tiger Woods golf course managed by The Trump Organization, and luxury homes  in association with Versace, Fendi, Just Cavalli, Bugatti, and Paramount Hotels & Resorts. With a consistent vision, and 
strong momentum, DAMAC Properties is building the next generation of Middle Eastern luxury living
DAMAC places a great emphasis on philanthropy and
corporate social responsibility. As such, the Hussain Sajwani – DAMAC Foundation, a joint initiative between DAMAC Group and its Chairman Hussain Sajwani, is supporting
the One Million Arab Coders Initiative. The programme was launched by Vice President and Prime Minister of the  UAE, and Ruler of Dubai, His Highness Sheikh Mohammed
bin Rashid Al Maktoum, and is focused on creating an empowered society through learning and skills development 
Contact and contact DAMAC developer of Damac Hills apartments and villas"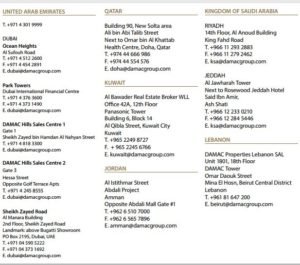 Unit prices at Damac Hills Apartments and Villas
Studio With A View!|Great Deal|Damac Hills
1,098,000 AED
797 sqft
1 BR APT In Damac Hills With Golf View
1,639,000 AED
1,497 sqft
3BR Villa|Family Home In Damac Hills
2,552,000 AED
2,424 sqft
Single Row | Vacant On Transfer | 5 Beds
Silver Springs, DAMAC Hills
3,100,000 AED
3,725 sqft
Single Row Brand New 4BR Villa W/ Garden
Queens Meadow, DAMAC Hills
2,650,000 AED
3,168 sqft
THM1 | Ready For MoveIn | Near To Park | New 3Br
Rockwood, DAMAC Hills
1,700,000 AED
2,723 sqft
3 Bed+Maid Townhouse In Brookfield 1 Akoya
Brookfield 1, Brookfield, DAMAC Hills
2,200,000 AED
3,400 sqft
Golf Course View I 5 BR I VD1 Whitefield
Whitefield 1, Whitefield, DAMAC Hills
4,900,000 AED
5,195 sqft
Pelham | 3BR + Maid's | TH-L | Near Park
Pelham, Akoya Park, DAMAC Hills
    AED 2,150,000        2,578 sqft
Facing Park
Rochester, DAMAC Hills (
1,700,000 AED
2,042 sqft
Apartment In Damac Hills
1,003,000 AED
769 sqft
Apartment In Damac Hills
1,500,000 AED
1,769 sqft
Studio In Damac Hills
510,000 AED
492 sqft
Townhouse 4BR+M THLA The Field Damac Hills
3,100,000 AED
2,787 sqft
TH-H | Big Size Plot | Modern 4 Br Villa
The Field, DAMAC Hills Villa
3,100,000 AED
5,428 sqft
You can also contact Damac through their website at this link
Please Remember that 

Uvisne.com

  it is the first online real estate show that offers you the trouble of finding the right accommodation and providing it for you free of charge
الرقم التعريفي :

4838

تاريخ الإضافة :

2018-11-27 04:39:59

اخر تحديث :

2019-01-27 13:10:03

المشاهدات:

1080
أستطلاع رأي والنتيجة بعد التصويت