KAI SAHEL NORTH COAST
KAI
INTRODUCTION
SITE LOCATION
MOOD
LIFESTYLE
KAI SAHEL
A NEW REFLECTION OF SUMMER
Welcome to the destination that refuels, refreshes and rejuvenates, KAI SAHEL. Break the routine and create the
optimum state of mind.' Kai Sahel is a community of like-minded people where residents can engage, relax, enjoy
and have fun.The stunning visuals and beautiful scenery with sea views, lagoons and tropical luxury make Kai Sahel
your perfect escape.
MASTER PLAN
MASTER PLANNER & DESIGN CONSULTANT
CALLISONRTKL A DESIGN CONSULTANCY OF ARCADIS
CallisonRTKL combines the legacy of two great design practices that is characterized by the strength of their ideas,
the spirit of their culture and the passion of their people to make the world a better place. One of its biggest
project, Dubai Creek Harbour, the newest project in Dubai inspired by the unique opportunity to transform the face
of Dubai by creating a walkable, accessible and sustainable city of the future.
MASTER PLANNER: CALLISON RTKL
MASTER PLAN NEIGHBORHOODS
DESIGN DEVELOPMENT
PROMENADE
Kai Sahel provides a multitude of experiences just by walking through our promenade!
The promenade is an amazing 2 KM pathway that cuts through the whole project from back to front. You can enjoy
a pleasurable walk through the different zone themes and countless activities to make you feel entertained, relaxed,
and chilled at the same time.
Kai Sahel brings your community the excitement to enjoy the cultural hub weekly events, sports arena energetic
activities and the lush greenery, landscaping, water features and springs along with Kai Sahel's the unique sea view
and beach experience to enjoy this visual beauty and get into pure chill out mood.
THE CONCEPT
KOMO CULTURE HUB
MASTER PLAN
The vibrant hub and the center of everything exciting and acts as a gateway into the site.This retail and
entertainment district is pedestrian-friendly and offers a unique shopping zone with a modern aesthetic and organic
vibe. Active during the day and vibrant at night. this area also features an open-air amphitheater that hosts
a variety of cultural performances and events.
PROGRAM ELEMENTS
1. RETAIL FACILITIES
2. AMPHITHEATER
3. PLAZA
4. PEDESTRIAN PROMENADE
5. RESORT SHOPS&DINING
6. ACCESS TO CHALET APARTMENTS
7. ACCESS TO SPORTS FACILITY
8. GAS STATION
EXPERIENCE
• MUSICAL PERFORMANCES
• ART SHOWS & CULTURAL FESTIVAL
• AMPHITHEATER
• PEDESTRIAN PROMENADE
• OUTDOOR DINING
SPORTS ARENA
MASTER PLAN
Located directly north of the retail and entertainment district is the sports and fitness district. Champion zone is all
about bursting with excitement and activity,features a state-of-the-art sports training facility and plenty of open
green space for recreational activities. It promotes a healthy, active lifestyle for all residents.The use of Wiki wiki
Center is active throughout the year with training camps for youth and sports leagues.
PROGRAM ELEMENTS
1. CLUB HOUSE
2. TENNIS COURTS
3. SOCCER FIELD
4. SWIMMING FACILITY
EXPERIENCE
• OUTDOOR GYM
• SWIMMING
• TENNIS
• SOCCER
• TRACK
EDEN LAGOONS
MASTER PLAN
The lagoon district features a series of connected water experiences that weaves between town homes and twin
homes. These modern urban residences get to enjoy the tranquil and serene experience that comes with living on
a lagoon.Peaceful water, harmonious nature and relaxing activities make this the perfect retreat for mature adults.
PROGRAM ELEMENTS
• 4 VILLA ISLANDS
• 1 CLUB HOUSE
• 3 PUBLIC BEACH AREAS
• TOWN HOUSES
• TWIN HOUSES
• BOARDWALK
• SWIMMABLE LAGOON
LEGEND
• CLUB HOUSE & BEACH
SUB NEIGHBORHOODS
EXPERIENCE HARMONY
THE CLUB HOUSE
TWIN VILLAS
HELE WATER CHALET
MASTER PLAN
Located adjacent to the lagoon and park. this district of chalets has easy access to active waterfront activities and
land-based community activities in the park Time travel is the family time travel awaited for long time in
a lively.active and bright zone features: flexible green space.which can be used for a variety of events and activities
throughout the year. Bright and festive, this intimate district is the place for those who want to be in the center of it
all.
PROGRAM ELEMENTS
• ONE-STEP POOL
• GARDENS
• EVENT SPACE
• COMMUNITY LAWNS
EXPERIENCE
• COMMUNITY LAWN
• POOL
• FESTIVALS
• PICNICS
• GARDEN WALKS
SENSATIONS PARK
MASTER PLAN
The Sensory Park transports visitors of all ages to an immersive. interactive public space using the five senses.
Featuring elements of activity. engagement and interaction throughout the springs park. visitors are encouraged to
connect with each of their senses in an inspiring way and return again and again to continue the exploration.
PROGRAM ELEMENTS
• SVILLAGES
• COMMUNITY CENTER
• PLAYGROUNDS
• CONNECTING SPRINGS
• COMMUNITY LAWNS
LEGEND
• COMMUNITY CENTER
 SUB NEIGHBORHOODS
EXPLORE "SEE" SENSE
The "SEE" Courtyard is inspired by the iconic kaleidoscope. Similar to the view through a kaleidoscope, the
experience will be multi-dimensional, infinitely rich, animated, full of spirit and alive.
EXPLORE "TASTE" SENSE
More than just a public space, this enclave, and its edible landscape create an inviting, engaging destination. Here,
residents are able to expand their culinary expertise by learning about food, herbs and other edible plants.
EXPLORE "BREATH" SENSE
This enclave is brought to life with the scents of flowers and trees, including the pine, the lotus, the plum, and other
native plants.
EXPLORE "MURMUR" SENSE
Residents will be transported to an immersive musical destination where the orchestra of natural sounds, such as
wind, water, and native fauna who call this park home join together. Each visit produces new a soundtrack,
a beautiful harmony to play in the background of your vacation.
EXPLORE "TOUCH" SENSE
Touch is the only sense experience throughout the whole body.This enclave encourages movement and features
unique textures and interactive activities.
HOTEL
MASTER PLAN
It is the perfect district for guests, visitors, or new corner to visit.This exclusive. ISO-room hotel retreat area
welcomes guests by immersing them in the natural surroundings. Guests have convenient. walk able access to
resort amenities and lush open spaces for gatherings and events. This area provides an elevated escape for
tourists.vacationers and visitors.
PROGRAM ELEMENTS
• HOTEL POOL
• DINING
• EVENT TERRACES
EXPERIENCE
• OUTDOOR DINING
• TERRACES
• GARDENS
• VIEWS TO THE SEA
MAKAI SEA FRONT VILLAS
MASTER PLAN
This friendly.inviting neighborhood offers world-class elegance and amenities to residents who desire to live with
great style and grace directly in front of the sea. The Interstellar experience reflects the imaginative journey
between the stars living the imaginative beach experience towards the resort sea. Here. natural beauty is at its best
with manicured gardens and views of the park and beach. Safe pedestrian paths and bicycle lanes allow guests
convenient access to the best neighborhood amenities.
PROGRAM ELEMENTS
• GREAT LAWN
• BRIDGE CONNECTION
• BEACH ACCESS
• WATERFRONT VILLAS
• COMMUNITY EVENT SPACES
EXPERIENCE
• MODERN, LUXURIOUS VILLAS
• MANICURED, BEAUTIFUL GARDENS
• WALKING DISTANCE TO COMMUNITY AMENITIES
• CONVENIENT BEACH ACCESS
NALU BEACH
MASTER PLAN
At Nalu Beach.the beach experience is enhanced with an active pier and expansive resort-style pools with some
thing for everyone – an Active Pool for the family.a Serene Pool for adults and a Hotel Pool for guests.This beach
side destination lined with restaurants. retail and events is the perfect spot for impromptu gatherings with family
and friends as well as the many special events that take place throughout the year.
PROGRAM ELEMENTS
• 2 ZONES
• BEACH DINING CAFES
• WATER SPORTS
• CABANAS by the beach
• SERENITY SWIMMABLE LAGOON
LEGEND
• SWIMMABLE LAGOONS
SUB NEIGHBORHOODS
EXPERIENCE THE BEACH PIER
• PREMIER WATER FRONT ENVIRONMENT AND EXPERIENCES
• BUSTLING BEACH SIDE SHOPPING & RESTAURANTS
• TRELLISES AND CANOPIES OFFER SHADED PEDESTRIAN WALKWAYS
• WATER SPORTS
• KIOSKS
EXPERIENCE THE SERENITY LAGOON
• EXCLUSIVE BEACH CABANAS
• BEACH SWIMMABLE LAGOONS
• HOTEL LAGOONS
• OPEN SERENITY
• PROGRAMMED ACTIVITY
• RELAXATION &PEACEFULNESS
ARCHITECTURAL MOOD
UNIT TYPES
PHASE 1
1 st ROW VILLA ( TYPE A ) – 397 SQM
1 st ROW VILLA ( TYPE A ) – 397 SQM
6 MASTER BEDROOMS
1 MAID'S ROOM
1 DRIVER'S ROOM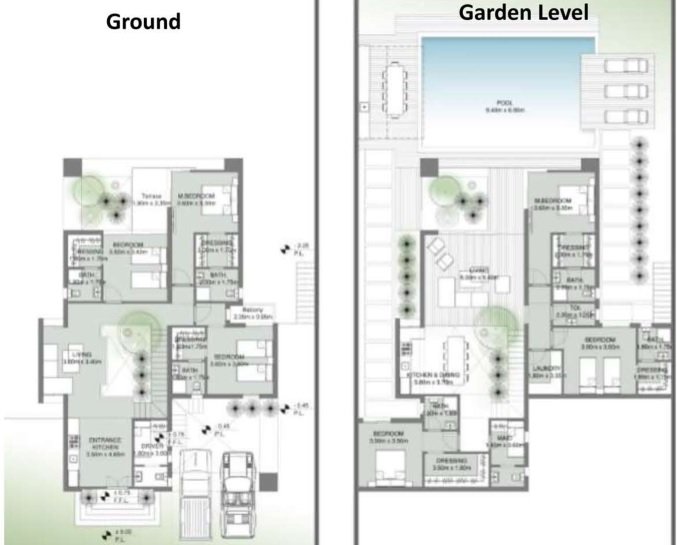 2nd, 3rd, 4th SEA FRONT VILLAS – 290 SQM
4 BEDROOMS ( 1MBD )
1 MAID'S ROOM
1 DRIVER'S ROOM
TWIN HOUSE VILLAS
TWIN / TOWN HOUSES – 207 SQM
4 BEDROOMS ( 1MBD )
1 MAID'S ROOM
1 DRIVER'S ROOM
TWIN / TOWN HOUSES – 177 SQM
3 BEDROOMS ( 1MBD )
1 MAID'S ROOM
CHALET
CHALET ( 3 BDS ) – 155 SQM
3 BEDROOMS ( 1MBD )
1 MAID'S ROOM
CHALET ( 2 BDS ) – 107 SQM
2 BEDROOMS
BUNGALOWS
BUNGALOWS – 40 SQM
ONE LEVEL:
BEDROOM
TOILET
RECEPTION
FINISHING STANDARDS
CHALET FINISHING STANDARDS
• Living Dinning Internal Corridors & Family Room
Floors: Selection of quality ceramic tiles
Walls: Plaster and paint
Ceiling: Plaster and paint
• Bedrooms
Floors: Selection of quality ceramic tiles
Walls: Plaster and paint
Ceiling: Plaster and paint
• Kitchen
Floor: Ceramic tiles/similar finishes as living and dining for open kitchen
Walls: ceramic tiles
Ceiling: Plaster and paint
• Bathrooms
Floors: ceramic tiles
Walls: ceramic tiles paint and mirror
Ceiling: Plaster and paint
• Balconies / Terraces Floors: Ceramic tiles
Walls: As per external building finish
Ceiling: as per external finishes
• Doors
Main Entrance Door: wooden veneer doors
Internal Doors: laminated or PVC doors
• Lighting fitting
Outdoor lighting of all facades
• Sanitary ware
Local vitreous china sets with chrome plated mixers
Marble counter top and wash basins
Shower: Cabinet (Tempered glass)
• Aluminum & Glazing
Aluminum works: aluminum section or PVC Section
Glass: Single glazing
Finishing Disclaimer: Misr Italia Properties will deliver finished units for chalets with standard finishing materials
as per the specifications annex to the sale contract.
All the designs and finishing materials are upgraded finishing options not the standard finishing materials.
In case of the client's desire to have the finishing done, there are suggested options for furniture and accessories
with an additional cost for the upgrades. A quotation will be shared with the client at the finishing stage and prior to
the delivery of the unit.
LAHUI trendy – ethnic
KaHKAI hampton's chic
PAYMENT TERMS
DELIVERY DATE: JUNE 2021
PAYMENT TERMS: 10% DOWN PAYMENT 8-10 YEARS
LOCAL MASTER PLANNER & DESIGN CONSULTANT
DMA carries more than 25 years of extensive experience in delivering architectural and engineering services
covering urban planning, architectural & landscape design, construction supervision & interior design; for all the real
estate developments & facility sectors.